Technologies We'll be Watching in 2010


[ by Andy ]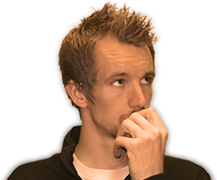 Leave a Comment | This entry was posted on February 9th 2010
2009 was an exciting time for the Web and Web-related technologies as technology advancements saw further shifts in the way we interactive with content and data online.
2010 looks set to be just as exciting as we see these trends advance further, as existing technologies in web development continue to develop and new ones come into the picture.
Below are some things that we will be watching eagerly in 2010.
HTML5 and CSS3 more 'main stream'?
There are a lot of exciting implications for the advancement of the HTML and CSS standards. Web developers will have even more power to create compelling, rich, web experiences. The main issue to date with these advancements is they have very 'spotty' support in the Web browser department.
As the year progresses, we hope to see greater support for HTML5 and CSS3, amongst other things, in today's established and developing browsers. Main stream support of these technologies will help advance the Web experience in areas such as graphic and font manipulation, multimedia content – such as video and Web animation – and a number of other areas.
Google announced last week it will be dropping support for IE6 (as well as other browsers no longer supported by their manufacturers) in its online Applications (Google Apps) by March of this year. The main reason cited was that this is a step towards greater utilization of new technologies such as HTML5 and CSS3.
Will we see other leading Web technology firms follow suite?
Continuation of Semantic Web Development
Already a hot topic prior to 2009, 2010 will hopefully see further focus in the Web development community on semantic accuracy in Web development. With the rise of Search Engine Optimization, Web semantics has never been more important.
Google Chrome OS
This is a generation which progressively moves away from installer-based desktop applications to Web-based online alternatives. As such, should our operating systems now reflect this new way of working?
Google Chrome OS is an open source development project looking to answer that question, with its flavor of operating system focusing on the online users' system needs.
An exciting prospect, especially with the rise of hardware such as the netbook – a lightweight machine with the primary tasks of Web browsing, email and lightweight app usage at heart.
Why carry all the extra baggage of the desktop when you spend the majority of your time in the Web browser?
Augmented Reality
Another technology we are keen to see more of in 2010 is augmented reality.
Combining real-time, location-based information with reality – whether it's live video overlays showing you the closest pub on your mobile device, along with meta data about its beer quality, or any number of other applications – augmented reality brings the real world and pertinent data together.
Cloud Computing and the Increase of Traditional Desktop Applications Moving to the Web
Google Chrome OS was devised because of the movement of data and applications online. As this trend continues, so will the demand for Cloud computing to meet the needs of our ever evolving use of the Web.
With the increase of online apps, and the advent of HTML5 and CSS3 as more mainstream, the power of these online apps and their functionality will also increase.
Google Wave
As a number of other authors have already stated, 2010 will *hopefully* be the year where the power of Google Wave and other real-time technologies like it will truly become apparent.
Apple iPad and Tablets
We couldn't really talk about 2010 without mentioning it. No matter what your opinion, the release of Apple's tablet device in March is intriguing. Rumors of a Google Tablet, which would run the Chrome Operating System add further fuel to the tablet discussion.
With many talking about how the Apple tablet (iPad) could redefine newspapers, textbooks and magazines, its definitely something to look out for in 2010.

Visual Blaze will be following along with developments in these areas, and any others pertinent to Web technologies as the year progresses. Follow us on Twitter @VisualBlaze, or subscribe to the RSS feed to join us.
You can follow any responses to this entry through the RSS 2.0 feed. You can leave a response, or trackback from your own site.
Leave a Comment